The World of DieCutting is the world's most comprehensive guide to the die-cutting process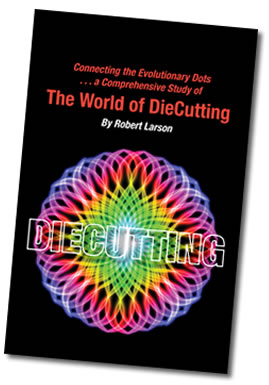 With over 570 pages of information on flatbed, multi-contour and rotary die-cutting as well as associated tooling systems, the World of DieCutting by Bob Larson is the bible of the die-cutting industry.
Die-cutting takes place in almost every city in every nation worldwide. Few people recognize how die-cutting contributes to the manufacture of many products we use daily.
Footwear, packaging in super markets, folding cartons and corrugated boxes, gaskets in automobile engines, the dashboards of automobiles, labels on wine bottles, intimate apparel, puzzles, leather goods, apparel component parts, toys and games, corrugated point of purchase displays, flexible printed circuit boards and thousands of other products utilize die cut component parts. Even frozen fish sticks!
The World of DieCutting connects all the evolutionary dots of the many parts of the die-cutting process.
Everything you need to know about die-cutting
Die-cutting 101
Die-cutting press systems
Primary types of die-cutting press systems
Cutting and creasing
Materials
Products
Die-cutting surfaces
Material utilization
Makeready
Diemaking 101
Types of die-cutting tooling
Alternative cutting systems
Associated converting systems
Glossary of die-cutting terms
About the Author
Robert A. Larson had a lifetime of experience in diemaking and diecutting. As both a die-maker and die-cutter, he had a thorough understanding of the entire die-making process.
As a world renowned expert in the diecutting industry, Bob traveled around the world, experiencing all types of diecutting and diemaking in many countries. Bob was also a respected publisher and speaker, and received numerous awards as well as recognition in the industry.
As an organizing member of the Diemaking and Diecutting Association (DDA) since 1972, he helped transform the DDA into the National Association of Diemaking and Diecutting (NADD), and then into the International Association of Diecutting and Diemaking (IADD).
Bob's accomplishments in the die industry include:
Publisher of DDIN International, a quarterly journal devoted to the die-cutting process
Organizer and presenter of the Diecutting Symposium Educational Conference and Exposition for over 20 years in Asia, Europe and North America
Developed dieco.com, an online resource for the die-cutting industry with over 5000 pages
Author of countless articles on die-cutting and die-making
Bob's lifetime of experience in the die-cutting industry is documented in "The World of Diecutting", the bible of the die-cutting industry. This comprehensive resource has over 500 pages of die-cutting information and includes:
A complete history of die-cutting
The complete die-cutting process
Die-cutting surfaces and materials
Die-cutting tooling
Industry resources
Glossary of die-cutting terms
Learn every facet of the die-cutting business
If you are in the die-cutting business, The World of DieCutting is an invaluable resource. From materials and die-cutting surfaces, to die-cutting tools and presses, "The World of DieCutting" is your resource for the die-cutting process.
Published Price:
$49.95
Special Price: $29.95 ($20 of the cover price)
Order your own limited edition copy for just $29.95, $20 off the published price of $49.95. Order as as an addon product in the Pioneer-Dietecs Specimen Die Store for free shipping. Also available as a standalone product for $15 shipping.
Shop Online
Order Book Only